What are the commonly used supporting equipment for laboratory rotary evaporators?
Views: 3 Author: Rotary evaporator Publish Time: 2021-11-18 Origin: Rotary evaporator manufacturer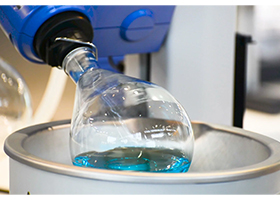 Rotary evaporatoris mainly composed of: motor, distillation flask, heating pot, condenser tube and other parts of common laboratory equipment.
1. Commonly used configuration of rotary evaporator and precautions for use
1) Heating water bath: the common heating medium is clean water. If there is a special need for temperature, it can be changed to silicone oil or high-temperature silicone oil! Although the manufacturer will equip the water bath with a cover, the frequency of use is not high during use; the static time can prevent dust from entering the water bath or oil bath, and stick to the water bath or oil bath
2) Condenser: The common cooling medium is water. If the ambient temperature is high and the condensation effect is not good, it can be changed to an ethanol bath and a circulating refrigerator is installed. Press the cooled ethanol into the condenser to stop the cooling treatment. In extremely cold weather, when the condenser is not in use, the water in the condenser should be drained overnight to prevent the water from solidifying and shrinking and expanding the condenser.
3) Decompression equipment: often configured as a water pump. For some solvents with high boiling points, it is possible to change the water pump to an oil pump. Pay attention to the request of the equipment when changing.
2. Tips for using the rotary evaporator. During the application of the rotary evaporator, the water in the water bath, the water in the pump and the entire installation must be clean and clean.
1). In the use of rotary evaporation, high temperature silicone grease is passed between the rotary bottle and the rotary evaporator, and the ground bottle is connected with the main body, and is equipped with a plastic standard mouth clip. The joint is not very strong, and the rotary steaming bottle is often seen falling into the water bath during use.
2) In the use of rotary evaporation, if there is a power failure, the water in the pump will be poured into the rotary evaporation system.
3) In rotary evaporation, if the boiling point of the solvent is low, it is easy to appear during the rotary evaporation process. The rotary evaporation liquid in the rotary evaporation bottle will flush into the condenser tube, and then enter the wetted bottle