Introduction of freeze-drying of Cordyceps sinensis
Views: 1 Author: Site Editor Publish Time: 2023-05-09 Origin: Site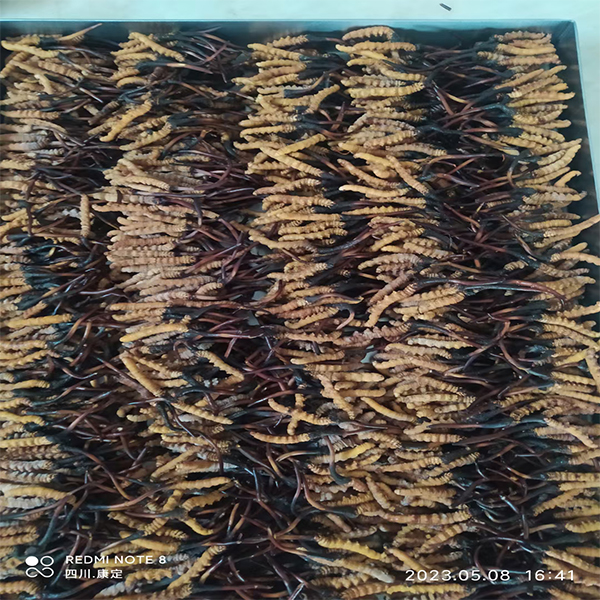 Introduction of freeze-drying of Cordyceps sinensis
Cordyceps sinensis This product is a dry complex of the larvae and the larvae of the ergot fungus Cordycepssinensis (Berk.) Sacc. It was unearthed in early summer and dug when the spores were not released. Cordyceps sinensis is formed by connecting the worm body and the fungal sub-seat that grows out of the worm head. Silkworm-like body, 3-5cm long, 0.3-0.8cm in diameter; surface dark yellow to yellow-brown, with 20-30 rings, the rings near the head are thinner; head brownish red; 8 pairs of legs, central 4 pairs are more obvious; the quality is brittle, easy to break, the section is slightly flat, light yellow and white. Semen is slender cylindrical, 4~7cm long, 0.3cm in diameter; the surface is dark brown to dark brown, with fine longitudinal wrinkles, and the upper part is slightly enlarged; the texture is flexible, and the cross section is off-white.
China is the main producing area of Cordyceps sinensis, because Cordyceps sinensis is only produced in the Qinghai-Tibet Plateau. Cordyceps is mainly distributed in Tibet, Qinghai, Sichuan, Gansu, and Yunnan at an altitude of 3,500 to 5,500 meters (altitude has risen in recent years), among which Cordyceps production areas above 4,500 meters are "high-quality" production areas The so-called high-quality refers to the place where more large-scale Cordyceps are produced. The well-known high-quality production areas include Yushu and Guoluo in Qinghai, Nagqu, Qamdo and Litang in Ganzi, Tibet and other places. In 17 counties in the eastern and southern areas of Qinghai, wild Cordyceps sinensis is widely distributed, accounting for more than half of the world's production of Cordyceps sinensis. They are: Yushu County, Zaduo County, Chengduo County, and Zhiduo County within the jurisdiction of Yushu Tibetan Autonomous Prefecture in Qinghai , Nangqian County, and Qumalai County. Maqin County, Gande County, Dari County, and Jiuzhi County within the jurisdiction of Qinghai Guoluo Tibetan Autonomous Prefecture. Hualong Hui Autonomous County in the Haidong area of Qinghai. Gonghe County, Tongde County and Xinghai County within the jurisdiction of Hainan Tibetan Autonomous Prefecture in Qinghai.
Advantages of freeze-dried Cordyceps sinensis
Vacuum freeze-drying, referred to as freeze-drying, refers to the process of drying solid materials directly into gaseous states without going through the liquid phase under vacuum conditions. During the freeze-drying process, the solvent is directly sublimated from a solid state to a gaseous state, so the original chemical structure and form of the solute will not be destroyed. Bioactive materials can still recover their conformation and biological function before lyophilization after redissolving. Therefore, freeze-drying is a drying method that has the least impact on the properties of the dried material. Every year, a large number of Cordyceps enter the market, except for the direct consumption of consumers, most of them are freeze-dried and then packaged and sold all over the world. The reason for using freeze-drying is because freeze-dried Cordyceps has the following advantages:
1. Freeze-dried Cordyceps retains cordycepin, cordycepic acid (ie D-mannitol),
Cordyceps polysaccharide and other substances that are beneficial to human absorption.
2. Freeze-dried Cordyceps does not lose the skeleton structure of the original food, and maintains
the original shape of the Cordyceps grassland.
3. Freeze-dried Cordyceps has better color and appearance.
4. Good rehydration performance, closer to the quality of fresh Cordyceps.
5. There is no surface hardening problem caused by general drying methods.
6. Easy to store and transport for a long time.
We are professional lyophilization equipment supplier in China. We supply full models from laboratory scale,pilot scale and production scale ,welcome inquiry.