Troubleshooting method of glass reactor
Views: 5 Author: Site Editor Publish Time: 2022-01-18 Origin: Site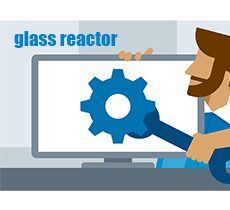 1. Turn on the power switch, and the indicator light is not on: the external power supply is not connected or the contact is poor, please ask a professional electrician to check the power supply and socket.
2. The fuse is short-circuited, turn the power switch to the OFF position, and then replace the fuse.
3. The power indicator light is on, but it does not rotate, the rotating shaft is rusted, stop using it, and contact the supplier. The motor and electrical box are faulty, the seven-pin plug is not connected, and the seven-pin plug is reconnected.
4. The vacuum suddenly disappears, the glass is cracked, check the glass parts; if the switch is damaged, replace the switch.
5. There is a vacuum but cannot be pumped: the sealing ring is worn, please replace the sealing ring, connect the vacuum switch to leak, and replace the switch.
6. Sometimes there is no vacuum: there is dirt on the steel shaft. The connector is loose. Please remove the dirt and check the vacuum meter and vacuum pump.
7. Aging vacuum hose: Please replace the vacuum hose.
8. The main shaft is loose left and right: the top screw is loose.
9. The motor temperature is too high and overloaded: stop the machine, turn the machine shaft by hand, whether it is heavy, remove the dirt that the sealing ring cannot contact with the glass shaft, and apply vacuum grease.
10. The speed display does not match the actual: the voltage is unstable, and there is an error in itself.
11. The shell is electrified: the heating tube has cracks and water enters, please check it by a professional electrician