Difference Between Thin Film Evaporator and Molecular Distillation Apparatus
Views: 8 Author: Site Editor Publish Time: 2022-01-11 Origin: Site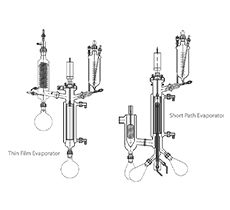 Molecular distillation is a liquid-liquid separation technology that makes the mean free path of vapor molecules larger than the distance between the evaporation surface and the condensation surface in a vacuum state. Therefore, the liquid mixture can be separated by utilizing the difference in the evaporation rate of each component in the feed liquid.
The difference between thin film evaporator and molecular distillation apparatus:
Conventional distillation techniques are generally carried out at the boiling temperature, but there is no such condition in molecular distillation, as long as there is a sufficient temperature difference between the hot and cold surfaces. This is also proved by the fact that the operating temperature of molecular distillation is much lower than the boiling point of the material.
In addition, if the conventional distillation is not careful, it is easy to cause bad phenomena such as bubbling and boiling, which of course will not occur in the molecular distillation process, because it is the free evaporation of the liquid film surface, the operating pressure is generally very low, and the heating time is also relatively short. In general, the evaporation and condensation of conventional distillation are reversible processes, and the liquid and gas phases are in dynamic phase equilibrium; while in the process of molecular distillation, the molecules escaped from the heating surface directly fly to the condensation surface, so the There is no limit to it.
Although thin-film evaporators and short-path molecular distillation apparatuses are both chemical production equipment and separation devices, there is really a big difference between thin-film evaporators and short-path molecular distillation apparatuses. Regarding this point, we only need to compare the structure and performance of the two devices.
From a structural point of view, the difference between the two is that the gas-phase outlet of the thin-film evaporator is at the top of the evaporator, so as to satisfy the rule that the steam of light components flows from the bottom to the top; while the short-path molecular distillation apparatus is just the opposite, and its gas-phase outlet is at the top of the evaporator. The bottom of the evaporator, mainly because the light components in this equipment are fully condensed on the built-in condenser.
The second is the performance of the equipment. This difference is also caused by the difference in structure. For example, the minimum operating pressure of the thin-film evaporator can reach 1mbar, while the short-path molecular distillation apparatus is lower and can reach the operation of 0.001mbar. pressure. However, the molecular distillation apparatus also has certain limitations. Due to the built-in condenser, there is no way to add a bottom bearing to the wiped film rotor, which will generate large vibrations during operation, thereby affecting the effect of the wiped film.