What is the use method of the rotary evaporator
Views: 4 Author: Site Editor Publish Time: 2021-11-23 Origin: Site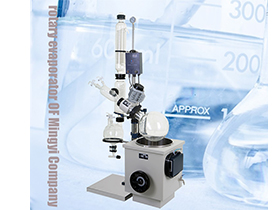 Rotary evaporator is a laboratory instrument used to distill and extract materials. The first question that customers should consider after purchasing the instrument is the use of rotary evaporator. This article will ask you to explain the use of rotary evaporator one by one.
The use method of the rotary evaporator is also relatively simple, which is convenient for the staff to operate.
1. Use a hose to connect to the condensate, and use a vacuum hose to connect to a vacuum pump to vacuum.
2. Pour water into the heating tank (using pure water). If you use tap water, please leave it for a day or two before using it.
3. The method of adjusting the angle of the main unit: As long as the main unit and the column connecting screw are loosened, the main unit can be tilted at any angle between 0-45 degrees.
4. Turn on the condensate, turn on the power supply, connect the evaporating flask to the host (don't let go), turn on the vacuum pump to reach a certain vacuum, then release it.
5. The method of adjusting the height of the main unit: press down the pressure bar located at the bottom of the heating tank, adjust the arc left and right to make the main unit reach a suitable position, and then leave the pressure bar to reach the required height.
6. Turn on the speed control switch and the green light is on, adjust the speed knob on the left side of it, and the evaporating flask starts to rotate. Turn on the temperature control switch and the green light is on, adjust the temperature control knob on the left side of the heating tank to start automatic temperature control heating, and the rotary steaming enters the trial operation. Once the temperature and vacuum reach the required range, the solvent can be evaporated to the receiving bottle.
7. Stop the low-temperature coolant circulating pump, stop the heating of the water bath, turn off the circulating water of the water pump, pour out the solvent in the receiving bottle, wash the buffer ball, and the receiving bottle. After steaming, first stop the rotation, then ventilate the atmosphere, then stop the water pump, and then remove the distillation flask
8. After the evaporation is completed, first turn off the speed control switch and the temperature control switch, and press the lower lever to make the host rise. Then turn off the vacuum pump and open the vent valve above the condenser to communicate with the atmosphere. Remove the evaporating flask to complete the evaporation process.
In addition to mastering the use of the rotary evaporator, the user should also master the precautions for rotary steaming: the important point is that the glass should be handled with care, and washed and dried after use; secondly, the heating tank should be filled with water and then energized, and it is strictly forbidden to dry without water. Burning; apply a small amount of vacuum grease evenly before installation of the grinding instrument used; the precious solution should be simulated first to ensure the safety of the experiment; turn off the switch and unplug the power plug at the end of the work