How to choose a large food freeze dryer for mass production
Views: 7 Author: Site Editor Publish Time: 2021-11-02 Origin: Site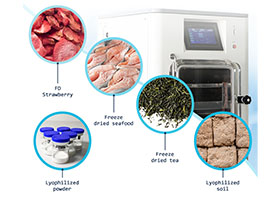 Large freeze-dried foods are obtained by physical sublimation and drying. The choice of temperature has a lot to do with the partition temperature and the condensation temperature. Normally, the crystallization temperature of most fruits or other foods is around -35℃. The pre-freezing temperature needs to be higher than the crystallization temperature. 10~15℃ lower, the temperature between the partition and the partition should be -45~-50℃, so that the pre-frozen materials can be fully frozen, which plays a key role in the later drying. After the drying process, the condensing temperature of the cabinet must be about 10~15℃ lower than that of the front cabinet, and the condensing temperature of the rear cabinet should be around -55~-65℃, so as to form an air flow and meet the requirements of the drying effect.
There are two types of normal food pre-freezing, partition contact type and cold storage pre-freezing;
①The clapboard contact type means that the raw materials are loaded into the tray directly into the cabin, and after the pre-freezing is completed, it is directly switched to the drying stage. The effect of contact freeze-drying of sugar-containing food materials is very good.
②After the pre-frozen materials are pre-frozen in the cold storage, they need to be transferred to the drying silo through the track. During this process, the surface of the materials will be liquefied. After the food materials enter the drying silo, the partitions are heated and sublimated from room temperature through the radiation type. The temperature cannot be precisely controlled. A large amount of water will sublimate at the eutectic point of the material. Most food materials have a eutectic point of about -5~-10℃. If not controlled well in the early stage, the material will collapse and coking, and the food material will be dried. Appearance, color, and nutrients can be harmful. Moreover, most of the radiation type is heated by steam, and boilers are normally used, which involves safety and environmental protection issues. At present, the country is not strict in reviewing this project.
Food drying also requires very high vacuum. The vacuum degree of high-quality freeze dryer equipment can reach about 2.7PA when empty. At present, only contact freeze dryer equipment can meet the requirements. Other forms cannot meet the requirements. Good or bad directly affects the effect of drying materials.
Therefore, when choosing a large-scale food freeze-drying machine, know whether the temperature, vacuum degree and pre-freezing form of the equipment meet the requirements, so that long-term stable and safe production can be achieved, and it will have a strict impact on whether the product can meet national standards.